Joe Exotic, the poster boy for all things bizarre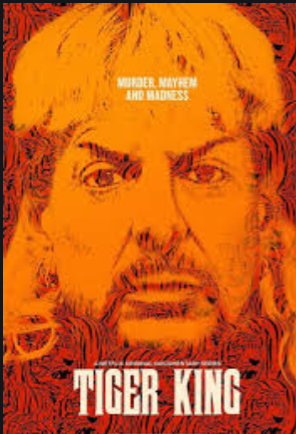 Tigers, murder, polygamy, and hicks running for governor of Oklahoma. If you thought that sentence was weird, there's a lot more where that came from. 
Tiger King was the "it" show on Netflix for weeks and people can't get their heads wrapped around it. There's so much happening in every single episode. 
 Joe Exotic, a gay country singer who owns his own tiger zoo, is breeding tigers in Oklahoma and making profit by running his own tiger zoo. People go to see the tigers he's breeding, but there's a lot of people out there that hate to see him doing this. 
For example, Carole Baskin, a tiger lover who also owns tigers but only for protection of their lives. She hates that Joe Exotic is breeding tigers and Joe Exotic hates her as well. 
In his videos he threatens her, pretends that objects are her and stabs and kills them. Later on in the show, he also tries to hire a hitman to kill Baskin, but Baskin made sure to stop doing her daily routines to become safe. 
All of this nonsense distracts viewers from the endangered tigers locked in cages. There's much more that happens, but it wouldn't be fun if I told you everything.
 I highly recommend Tiger King, especially in this quarantine when you're bored and have nothing to do. Watch it. It will leave you shocked and entertained. 
There is nothing that this documentary doesn't have. And, you will see why there are numerous memes about Joe Exotic and Carole Baskin trending all over social media. Hop on the bandwagon. You won't regret it.
* This docu series contains language, smoking, and animal abuse