Trouble at high school:
DHS election divides the school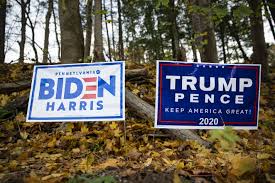 With the United States being on edge with who our next president will be, the students at DHS take part in their own election. As DHS continues to feel tension after their election they become divided. 
The history teachers at DHS had students vote. After students all got "I voted" stickers, they put them on water bottles, phone cases, computers, etc. They posted it on social media and implied who they wanted to win. That caused problems at DHS. 
Ada Bermudez said, "I had many people texting me Trump 2020. I had five people blocked me off of Snapchat, and I had a lot of family problems." Bermudez also said, "I posted something on my Snapchat story about Joe Biden and all the things that I stand for, like pro choice and stuff."
The culture at DHS is Trump 2020 but there are some people that think otherwise. Our school election says that 56.2% of DHS wanted Trump to win. 
Also on Snapchat Clay Sandridge also said "Yes, I had a lot of people unadded me." 
It's weird for a school to get divided because of what our choices are. 
Kyle Kincaide said "Yeah I said something, but didn't post anything." 
"In DHS, we will all have different opinions, but even though our opinions are different doesn't mean that we need to be divided,"  said Autumn Eddy.