Women of the Emblem work with the community
The Emblem Club is full of women who help people in need or just hosting dinners."I joined years ago. Clara McLeod got me into emblem," said Marie Sticker, one of the women who was  helping at a funeral dinner Saturday afternoon.  "I was really looking for a service club that I could do and be a part of. That's why I joined." Sticker was helping at the funeral dinner by getting plates ready and cleaning up afterwards. 
Reasons for joining an organization vary from person to person, but for Mary Sticker it's "The privilege of being the club president and the state president of a little club and just being able to have the camaraderie," said Sticker. "I think our best community service has actually been the Navajo tacos, they have been wonderful and have helped us give out scholarships." The women of the Emblem help with a lot of food related community services like Navajo tacos and funeral dinners."We can help people when we do this kind of thing with people that have lost somebody, and we can help them," said Marsha Long. "When I lost my grandson, they helped with the lunch and stuff like that," said Long. "I think our best community service is funeral dinners, and helping people that are down or having problems, we're here and we can help them."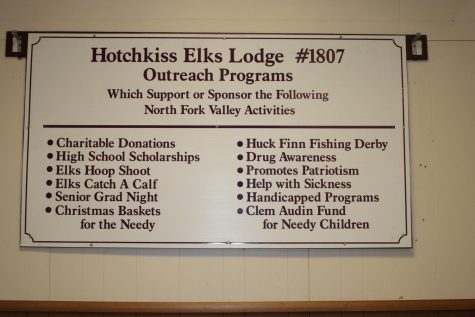 The Emblem's motto is "Helping those in need." "I joined the club because my mother in law did and she invited me to come and that was in 1981," said Karen Emmons. "Doing charity work and also making long lasting friendships is what I like the most," said Emmons. The Emblem got $105 in tips on the funeral dinner last Saturday. " We used to do yard sales and give away things like clothes and for families that were in need, but definitely our community dinners are good community service. All our box tops, pull tabs, card threads, all that goes to the organizations," said Emmons."I joined the Emblem club because I was new to town, and I wanted to be able to meet people and I knew they did a lot of philanthropic things so that's why I joined," said Anne Pulley. The women of the Emblem help a lot of people with things such as funerals, dinners, working, and judging stuff at the fair and, of course, Navajo tacos.