Coming to America:
DHS student tells her story
Looking back at the memory, the two friends sat together smiling. It was going to be the first of many times that Su Pa Wa shaved her head. The extreme heat in Thailand made the friends shave their heads together. Wa kept shaving her head until she came to America in 2010. 
Su Pa Wa was born in Burma. Her family went into a refugee camp when she was nine months old, and then they moved to Thailand. Wa's family has 10 members, including her parents. She is the only daughter out of her seven other brothers. In Thailand, Wa lived in a bamboo house next to a river. She described life in Thailand as "so much different than America." 
"We didn't have showers so we either washed ourselves in the river or got water from the river," said Wa. There were also no bathrooms inside of their houses. Wa specifically remembers the joy of Sundays. People would gather at her house for tea before church. They would socialize until they heard the church bell ring from across the street. 
Before their departure from Thailand, Wa's family was taken to Mae Sot for a week. Wa and her family stayed in a transportation area. Many families were being brought in and being sent to America. At that area, Wa received her first pair of closed-toed shoes. Wa was seven when they left, so she did not remember being that sad; however, she remembers her mom being sad from leaving all of her friends. "We had the privilege to come to America to have a better future," said Wa.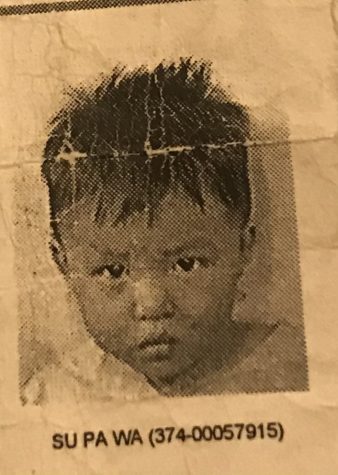 Su Pa Wa lived in Aurora, Colorado until she moved to Delta in the summer of 2012. Wa's dad, Ko Gi, was offered a job by a friend to work in an orchard in Cedaredge, so they moved to Delta. She loves how peaceful Delta is compared to Aurora. Su Pa Wa is now a senior at Delta High School and is involved in FFA, LULAC, and soccer. Lae Sari, Wa's mom, is proud of her daughter and the women she has become. "She's patient and sets a good example," Sari said. On December 31, 2020, Wa became an American citizen. Sari passed the citizenship test, and since Su Pa Wa is under 18, she paid for her daughter to become a citizen also. Wa had to fill out a bunch of paperwork and do a fingerprint, and after a few months she became a citizen. "I was relieved the process was over because it took forever, but I was excited because I'm able to vote and do things that a citizen of the United States is able to do," said Wa.
Su Pa Wa would also like to tell the community about the crisis happening in Myanmar. Aung San Suu Kyi and other officials were recently detained for election fraud, despite the election commission saying there was no evidence to the claims. The military is now in charge and has declared a year-long state of emergency. The countries' power has been handed over to commander-in-chief Min Aung Hlaing. The country has not been able to hold another true election until the state of emergency is over. The protests in the country over the coup is the "largest since the so-called Saffron revolution in 2007" according to BBC News. Many villages and homes are being burnt and people are being tortured. People have been fleeing for their lives into the jungles without food or water. Wa's family is worried for their people. "It's no good right now with many people's injuries," said Ko Gi. Wa understands how there is not much you can do for those in Myanmar except for praying for them. 
"I am glad that God gave me this life because even though I was very young when I was on the other side of the globe, I've experienced and seen how many people's lives are different. Throughout my whole life, I know that God has provided everything for our family from leaving Burma to getting safe shelter in a refugee camp and then coming to the United States to live a better life. My parents never would've thought they'd ever live in the United States," said Wa.