One last time:
The class of 2021 shares a final moment with one another
As everyone grows up, they all experience the journey and adventure of school for at least 13 years of their life. Each and every one of the boys and girls get to know one another, some more than others. They make friends, lose friends, learn new things, make memories, and go to new places. 
The last years of school become the ones you cherish the most. It will be the last years of your life where you will get to spend time with all the people you grew up with and with the people you know and love. With that in mind, this year was the last school year for the class of 2021 to do that.
One last moment that the class of 2021 got to have together was the Baccalaureate. The Baccalaureate is a religious ceremony with songs, scripture readings, prayers and speeches from mentors selected by that specific class.
The senior parent committee planned this year's Baccalaureate that was held at the Tru Vu Drive In on Wednesday, May 12th. The seniors selected mentor was Robert Ames who spoke about "how as humans, we can get caught up in trying to do 'great things' with our lives. . .but that doing little things well may be a better way to live a life of joy and purpose."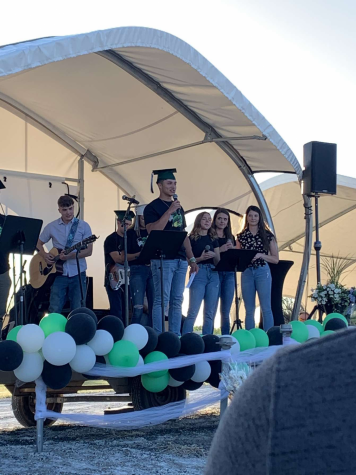 After his speech, senior Moriah Dunsing sang Goodness of God by Bethel, and she said, "It was very scary. I was shaking before, but I think I did pretty good." 
At the end, a slideshow was played that contained group pictures, baby pictures, and senior pictures of the class of 2021. Bernice Rosales, a senior of the class, said, "I really liked it. Everything was in order. The only bad thing was towards the end, [because] we waited so long for the slideshow. [But] it was worth it."
Jessica Dexter, another senior, said "It was a blast to be outside at one of our town's special places with everyone and I think it should become a new tradition."