Running through the years
Everybody has a passion. No matter what it is, everyone has something that they enjoy doing. For freshman Paige Kehmeier, it's running. 
Kehmeier has been running for the majority of her life. "I've been running since third grade. I did girls on the run and then middle school cross country, now high school," said Kehmeier. 
Her love for running has allowed her to be involved in lots of sports such as basketball and volleyball. Although she has participated in other sports, she always comes back to running. "I think I have stuck with running and cross country because it always just makes me feel really good. It makes my lungs and body just feel so refreshed and brand new," said Kehmeier.
Kehmeier has been very successful in her running career. At the end of the cross country season, she had earned the most awards out of everyone. "I have gotten so many awards for cross country. This year I earned my letter for cross country. I also have won the iron-woman award this year," said Kehmeier.
The Iron Women award is given to the athlete who works the hardest and doesn't miss any races for the entire year.
Along with sophomore John Dexter, Kehmeier competed at State cross country in Colorado Springs on October 30. Although Kehmeier did not place at State, she was proud of how she did despite the fact that she was sick. "I think I would have been better if I wouldn't have been sick, but you can't change that!" said Kehmeier.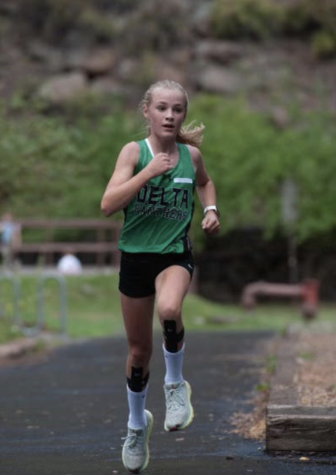 She loved the experience at State, but she missed having her team behind her to support her when lining up at the start. "It was crazy how many people were there and all the vendors and seeing all the fast people," said Kehmeier. "It was really fun."
    Her family has been a big influence in her determination to work hard and become a better runner.  "My family has influenced my running a lot actually. My family has always been very involved in running. My grandad went to college just for running," said Kehmeier. "I look up to him… not just my grandad was into running. Almost all of my family has participated in track and or other running sports." 
Kehmeier plans to stick with it and continue to progress and become a better athlete during her high school career.