Go, Fight, Win!
Volleyball's Winning Streak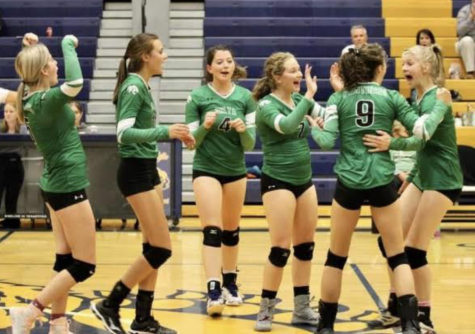 The Delta High School's varsity volleyball team has made an impressive winning streak for themselves. Although the volleyball team wasn't able to go to state, they were able to become unified. Not only were they a team, but the volleyball team was amalgamated as a family. 
The team was proud. Kaelynn Ford, senior varsity player, went on to talk about the teams that they had played before. "…a lot of teams that we've beat were really prideful because in the past years, they've beat us. It's kind of like a rivalry thing, like the losses that we've taken we've learned from them," said Ford. 
Nevertheless with determination and grit on their side the girls confronted their rivals and knocked through the competition. Raelee McCurdy spoke about the winning streak their team accomplished this year. "I think it's a really good testament to how hard we work. We worked all summer and it's kind of paid off this season," said McCurdy
Does this winning streak create more confidence throughout the team? "It's really awesome. Honestly, I think that it builds everybody's confidence….we were given an opportunity to prove ourselves and that winning streak is super, [and] fills our adrenaline," said Baili Hulet. 
"I think it's good, I'm really proud of us. We all have a lot of support," said Emilie Cardenas, senior varsity volleyball player.