Witnessing the drive to success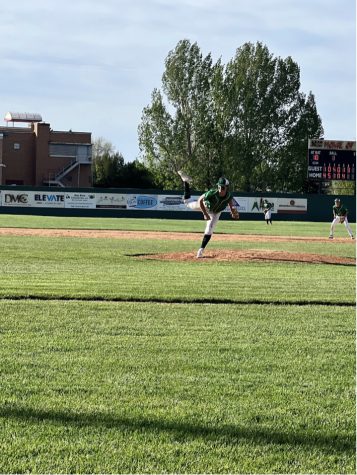 Ty Reed pitches at Montrose High School.
Young athletes aspire to become something great. Ty Reed is motivated to become an athlete for himself and his parents, Carrie and Tanner Reed. Reed has goals of going to college for baseball and/or football, and getting a degree in the business field. He also has hope to potentially go pro in one of his sports. Previously, Reed was Varsity quarterback, and now Reed is a starter on Delta High school's Varsity baseball team.  "I've become a starter, my batting average is really high, I've become a better pitcher, and I've become a better player overall," said Reed. 
 As a young athlete pressure is always present; some athletes feel more pressured to aspire as someone they are not, "I take a second and take a breath, and tell myself to like get it together and get going," Reed said in regard to coping with pressure. After a good play, Reed said "I feel happy and I feel proud of myself and I feel accomplished." 
Reed enjoys his team sports because of the accountability being held over him, the competitiveness, and turning strangers into friends. "My teammates are always in a good mood and always try to have a good time." 
Reed has had a passion for baseball since he started playing at the age of seven. Who is Reed's inspiration? "My mom because she's always doing her best to provide for us." It's often you hear that a mother's support is what pushes her child to succeed, and Reed is a great example. Reed said "A role model I look up to other than my mom is Kevin Kopps because he was a dominant pitcher for Arkansas and they used him all the time and he was confident with all his stuff."
 "It was time to marry the game and I said "Yeah, I do." -Meek Mill. Reed has yet to give up as he's slowly reaching every goal he has placed in his heart, he knows he will only grow from here.