Robot Babies are Back and With More Destruction!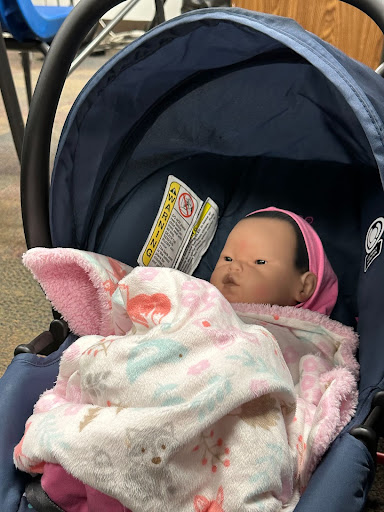 The robot babies have made a huge comeback at Delta High. The babies are graded in health class and the students get graded on how well they care for the baby. The babies are realistic. They need to be fed, burped, held,  and diaper changed. Their cries even sound real. 
You might think this is a great way to teach students how to take care of a baby, but this project distracts students from their other classes and school work. Students have to leave classes to take care of their baby's needs. Not only does this distract the student participating in the project, but also the other students in the class. Students' learning gets interrupted by the baby's screams and cries. Even if the baby is in the hall, it is still distracting with the faint crying in the background of the lesson. 
The baby project lasts for almost a month, every year. The students pick a partner and together they take turns taking the baby for a day and a night. Throughout the day, the student has to take care of the baby and keep up with their school work.
After their long day, they take the baby home and care for it during the night. Most students get maybe five hours of sleep when doing this project; this is caused by the baby unfortunately keeping the student up most of the night.
After the long, sleepless night, the students have to go back to school completely tired and unfocused.
"It affected me because [of] loss of sleep in the night with the baby caused [it caused] me to not focus as well in school. I felt annoyed and I felt like it was a big distraction," – Olivia Hines, a student at Delta High.  
Students even use this as an opportunity to skip all of the classes. They will leave class the whole period taking care of the babies when there is nothing wrong with them. Not only this, but the students are babysitting other babies to skip their classes, keeping them distracted from their school work. 
"My baby was super annoying and kept me up all night. I struggled throughout the day focusing on my school work because I was so tired " – Jaden Angelo a student at Delta High.