Kent State-4 Dead in Ohio Review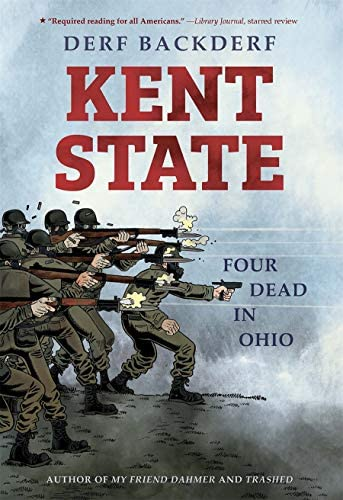 The graphic novel Kent State; Four Dead in Ohio takes place in 1970 and details the lives of the four people killed in the grisly Kent State shooting of protesting college students by the national guard. 
The book Kent State details an interesting and important history that is often overlooked and pushed away from the national conversation.
In the first chapter, we are introduced to the four main characters who, as the title suggests accurately and historically portray the four people dead in the Kent State shooting. Namely, Allison Krouse, Jeffery Glen Miller, Sandra Lee Scheuer, and William Knox Schroeder. These four main characters are presented as they were, yes historical figures but also college kids who are surprisingly empathetic considering the event's time frame is over 50 years ago.
The aspects of the book based on the government and public's reactions before during and after the shooting are also shockingly similar to the reactions of the public and the government during the Black Lives Matter movement of 2020. A clear example of this is how divided the town of Kent Ohio actually was, between the more liberal college students and the conservative locals, who often clashed on and off campus throughout the story. Another point that the book attempts to tackle is the student body themselves clashing during the event, particularly the ROTC students whose section of the school was burned down by the protesters.
All in all, the Graphic Novel Kent State presents a novel take on an overlooked and interesting historical event that is strikingly similar and relevant to how protests and civil rights are talked about today.