A Line to Kill Book Review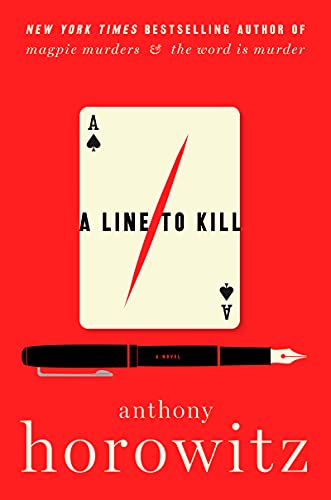 In the third book in writer Anthony Horowitz's best-selling series, Hawthorne, and Horowitz, the two detectives are invited to a literary festival on Alderney where the locals are feuding over a controversial powerline set to cut straight through the island. 
The book wastes no time in introducing its readers to a unique and colorful cast of characters, including author Anne Cleary, chef Mark Bellamy, his assistant Kathryn, historian George Elkin, her husband Sid, and finally, french poet Maissa Lamar. 
The main plot of the book starts when rich host Charles Le Mesurier is discovered dead after being duct-taped to a chair and stabbed in the neck with a letter opener. Since this is the island's first murder since World War II, the local police force enlists Hawthorne's help with finding the murderer that's on the loose. 
After Hawthorne starts his investigation he discovers that a man who he has a personal history with, Derek Abbot, is the prime suspect in the current murder case. However, his investigation is cut short when Charles Le Mesurier's wife, Helen is suddenly assassinated. Before this everyone is instructed to stay on the island, so, it is clear that there is a cold-blooded killer trapped on the same island as our detective. 
Overall, in A Line to Kill, author Anthony Horowitz flexes his creative muscles, bringing the old trope of a murder on a tiny island into the modern day and truly ramped up a sense of urgency in a way that not many writers can. Can you guess the killer before the detective?