Shatter Me Book Review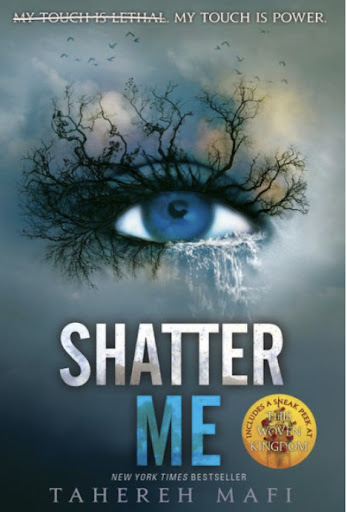 Shatter Me is the first of six books to kick off the series about Juliette the untouchable and her love triangle with Adam and Warner. Juliette is put in an asylum, away from society and away from causing harm to anyone because if you touch her, you die instantly. Everyone thinks she is a monster for something she can't control till Warner comes and gets her. He has plans for her, to use her as a weapon against all enemies. Meanwhile, Adam has know her since elementary and she was still treated the same, like a monster. Juliette soon finds herself falling for Adam as they spend more and more time together and the more time she spends with Warner, the more her hatred grows for him. 
In the beginning of the book we learn that the world has been completely taken over by the Reestablisment and the environment isn't thriving with color but all dull while Juliette has spent that time in an asylum. Juliette looks out the window hoping to see a bird fly even though society has taken advantage of nature and everything has died. Seeing a bird is really rare yet she still hopes for it. This symbolizes her yearning to be free and her likelihood of that happening and where she wants to go without being looked at as a monster. 
Later we find out that Adam has the exact bird she dreams of tattooed on his chest. This could symbolize how he's the one who sets her free from everything and gives her a reason to live for the first time.  
Juliette has grown throughout the book a lot. In the beginning, she is unloved, uncared for, and scared. Juliette's parents never showed or loved her the way a parent should; they loathed her. All she ever brought them was pain. When Warner takes Juliette to Sector 42 she starts becoming a new person. She isn't afraid of Warner nor is she scared of death. She becomes increasingly aware of her surroundings, stronger, and more loved. Adam shows her the love that no one has ever shown her. Around him, she feels less like a monster and more a human because he treats her like an actual human. 
At the end of the book Juliette and Adam find safety away from Warner in Omega Point where she finds that there are other people just like her. Except the book did take a weird turn into a superhero genre which wasn't really what I had expected for the ending. I thought it would end in a more dystopian way. 
This book was really good it was always moving and was always interesting. However, it did turn into a superhero-type book in the end because I wasn't expecting that but overall it's a good book and definitely worth the read.
 The next book in the series is Unravel Me, which is about Juliette's new life away from the Reestablishment.