Jordan Johnson strumming away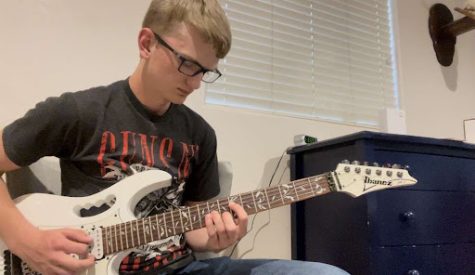 Jordan Johnson's journey with the guitar began in 2015 when his parents gifted him a small acoustic guitar for his birthday, sparking his interest in the instrument he's been practicing ever since and taking weekly lessons with his teacher, John McCoy, on Tuesdays to improve his skills. 
"Jordan is very easy to teach because he's willing to learn some of those things that might not be the most fun or the most applicable to some of his interests but is more than willing to learn and study things that will be good for his overall musicianship," said McCoy.
 Johnson is an 18-year-old high school senior with a passion for music. He has been playing the guitar for almost a decade, and it has become an integral part of his life. 
In addition to playing the guitar, Johnson also plays the trumpet, an instrument he has been playing since sixth grade. However, it is the guitar that he truly loves, and he finds playing it to be a deeply fulfilling experience. 
Johnson's dedication to his craft is evident in the genres of music he chooses to play. "Rock and Metal music is my favorite to play," said Johnson. His favorite song is "Creeping Death" by Metallica. 
Johnson also plays his guitar and Xbox in his free time. His love for music and gaming provides him an outlet to relax and unwind after a long day of school and practice. Johnson shows his love for the guitar by playing it in his free time as a hobby, not as homework or something he feels he has to do.
Johnson has an Instagram account dedicated to his guitar skills where he posts himself doing a variety of songs ranging from "Hotel California " Solo by The Eagles to "Nothing Else Matters" solo and introduction by Metallica. You can find him at noneedtofret768. His first post was his own song called "Change of Pace" which he posted on November 17, 2019.  
Johnson owns four guitars, two acoustic guitars, and two electric guitars with one being a Stratocaster and the other being an Ibanez. The two acoustic guitars don't use any electronics to amplify the sound. The Ibanez is used for more blues and jazz types of songs while the Stratocaster is better for rock and metal music. After high school Johnson said, "I plan to play for fun."