Secrets in the Kitchen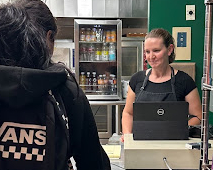 The lunch ladies work hard to ensure students have food every school day. Sarah McMillan, the kitchen manager at Delta High School arrives every day at 6 a.m.
When she gets to school, she starts warming up the ovens and making breakfast for the students. Then she gets ready to serve the students in the morning. 
The lunch ladies prepare to give out breakfast to the kids while listening to music through the little red speaker by the sink. The food takes two to three hours to make, depending on what is on the menu for the day. She estimated they make anywhere between 180 and 200 lunches a day, not including breakfast. This isn't bad because there are over 600 students in the whole school. After lunch, they clean up the kitchen, which only takes McMillian and her team about an hour.
 In high school, McMillan really enjoyed the marching band. She also went on trips every summer.
 "We went on vacations every summer, and I really enjoyed that," said McMillian. "We would go in our RV and go to Yellowstone or Mount Rushmore, and we did a lot of trips." 
She settled down here in Delta and has three kids: Izzy, 15, Shamus, 13, and Brody, 11. She loves her job and the people she works with.
 After high school, she didn't go to college, but she heard about a lunch lady job that was open here in Delta.
 "I heard about it from a friend who worked for one of the other kitchens, and I actually interviewed to work at Garnet Mesa Elementary, and in the process, another lady got that position," said McMillian. "But they told me the position was open, and I came up here and subbed for a couple of weeks and ended up getting the job."
She has worked here as the kitchen manager for five years. 
She enjoys all the staff in the office, even though she doesn't know all of them personally. Her closest friends are the lunch ladies who work with her in the kitchen, making it all possible.
"I don't see myself working anywhere else," said McMillian.