The end of an era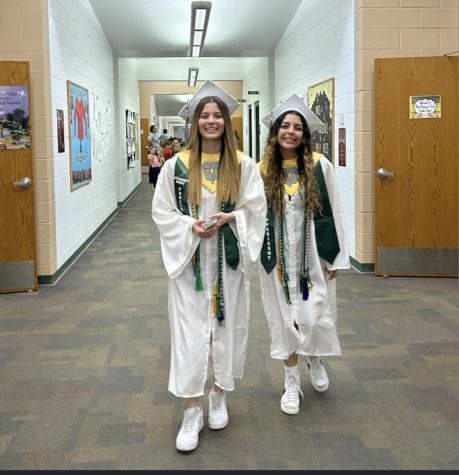 And the last bell has rung for Nylene Gutierrez as she finishes her last class of her last year in high school. As she stepped out of Delta High School for the last time, memories from her time in high school flooded in.  
Freshman year for Gutierrez was the year that the DHS football team as they made it to State that year and Gutierrez got to experience her first send-off. 
"Football made it to State so we had a school send-off for them. The halls were filled with students cheering as the team was led by the band to walk them. We ended [up] making a tunnel for them to run through and I remember how hyped up everyone was. That was the first and last time that ever happened and I just loved the fact that I was able to be a part of that."
 At the height of COVID her sophomore year, Gutierrez recalls many restrictions and rules to go back to school.  Because of those restrictions, the school decided to not have a homecoming due to exposure risks. 
"During my sophomore year, we still had COVID regulations so that meant that we didn't get to have a Homecoming that year. But I remember that my friend Jacob had a friend's Homecoming where a bunch of our friends made the most of the situation and had our dance. It was a cute little thing and we just danced the night away, had lots of laughs, and ultimately made a night to remember."
But COVID didn't stop Guiterrez from going to every basketball game to support the team and her older brother, Diego Gutierrez, the following year. 
"I loved to show my support to him. I remember every time he'd get put in, I'd shout 'I'm your number one fan!' This meant a lot to me too because it was his senior year and I knew that I wouldn't get to experience school with him ever again," said Guiterrez.
 That was the end of going to school with her brother, but she would never have to go to school alone because she always had her twin sister, Evelyn Gutierrez, by her side. 
These two twins have gone to school together for all 13 years and will be adding four more to that as they get ready to be roommates at CMU.
 "Going to school with a twin all these years is something I'm incredibly grateful for." 
Senior year, Gutierrez made the most of her time knowing that this experience would be over. "Knowing that this is my last year in high school surrounded by the kids I grew up with, I made it my goal to go to as many events as possible and to make the most of my last year. I've also become very sentimental over this being my last year because I'll never experience this again. I just wanted this year to be full of memories that I'll be able to look back at and never regret. I've made it a tradition with my friends Ada, Joel, and Evelyn to go get acai bowls every flex day that Mrs. MacKendrick gave us. This became our own little thing that I love. Another memory of mine was the Parade of Lights. Stuco always makes a float for the parade and this year I was in the committee to do it. We decorated the float into a gingerbread house with a gingerbread family. I remember that at the parade Sarah was in the gingerbread suit and she was messing around and dancing. It was really funny. Kayla and I walked the float together again and just sang along to the Christmas songs playing." 
"Making it a tradition to get acai bowls with all my friends this year has been so special. I love how we all have a place to go to just talk and enjoy an amazing bowl almost every Friday," said Evelyn Gutierrez. 
"My feelings towards leaving high school and moving on to this next chapter of my life is bittersweet. I'm excited to leave and experience college life and to just have that freedom of being on my own. But I'm sad to leave everyone I've grown up with, especially the ones that are my best friends."