Up and Running: The past life of a hard worker
Living in a country where the conditions aren't the best is difficult. Some parents today can't afford food because money is scarce. They work diligently to provide for their families. In some families, every member has a role in the household. Some children help maintain and cook, while others go to work or school. 
Many people would like to live in a country where life would be better. The result would be to immigrate to that country, but it isn't always easy. This is what 53-year-old Joel Saenz did when he was 18.
Saenz was born in Balleza, Chihuahua, Mexico. Growing up was exciting for him in Juarez. It did have its ups and downs, but he enjoyed his childhood. 
"Each block where I lived belonged to a gang member, but once you move in, they respect you if you don't mess with them. As a kid, I used to play with everyone and there were times when I didn't get along with people my age. I got along with those older than me since I liked playing all kinds of sports and I had more fun with them." 
He never got into trouble, but there were times when he had problems with kids around his age. Once a person stands up for his or herself, kids start to have respect. If the complete opposite happens, there will be a warning. 
"They respected me because since I was younger, I worked. They always saw me doing errands, keeping myself busy. Everyone, you can say, liked me, especially people I did errands for. Then there were people with younger kids and I always helped take care of them and passed the time with them. I had my responsibilities, which were doing errands for the household. Every day I had to go to the tortilleria and I asked the neighbors if they wanted tortillas before I left because I knew what specific hours they wanted them."
Besides asking all five to six of his neighbors if they wanted tortillas for the day, he also helped this neighbor with her kid and errands. 
"There was this neighbor who yelled out, 'Joel' or 'Wuerito,' and she said, 'Can you take care of Raulito [her child] for me?'. They also asked me, 'Can you do some errands for me at the store or the bakery?' and I went. I knew the price of everything they told me to buy because I'd been there many times. They gave me the note and the prices, and I brought them what they requested."
Saenz also had a schedule for whenever he had to go back home. He went back at noon to eat and get ready for school. Students entered at 2 in the afternoon but they left at 1:20 because they had to walk to school. They got out around 8 a.m. in secondary school and primary school got out at 6 a.m. After playing, he went inside at 9, did his homework, and fell asleep at 10. 
"During vacation, there was more time. I still did errands and in specific hours, since my parents didn't give me money, I had to earn it. On the weekends I did errands for the vendors in the markets. They usually would ask me for some sodas and lunch. Then they gave me money and it was something extra."
Doing errands wasn't the only thing Saenz did as a kid. He also sold popsicles.
"I was about 12 or 13 when I sold popsicles. I felt ashamed, but no one was going to give me money, so I liked it because I wanted to buy candies or other things. There was a day, a Monday, and I went out around 7 in the morning. I picked up the popsicles that I thought I would sell, and I left the store at 8. It was around 12:30 and I hadn't sold anything. One had to go out walking with the cart ringing a bell saying, 'Paletas paletas.' I went back home to eat and I felt pretty bad because I didn't sell anything. I cried that time and my sister Lety told me, 'Don't worry, eat and rest for a while and you'll see what'll go well for you.' The next day when I went out, it was the day I sold the most popsicles. By 5:30 I sold every popsicle." 
Saenz also worked for a panaderia and a taqueria whenever vacations came up. He also offered to help out others who were struggling and washed people's cars if they agreed. People looked for a way to work, but instead of just waiting for the job, they learned how to do the job beforehand. 
At the age of 18, Saenz moved to the United States of America by himself. Later on, part of his family stayed in Texas, and the other part lived in Colorado.
 There were several steps one had to take to immigrate. It not only includes hard work and determination but also money which not a ton had.
"I moved here because, well first off, the desire to excel because over there, one could say that life starts off in a factory. You learn a lot of jobs but there's no progress. It's nothing more than to be living. This motivated me to come over here to help out my family and at the same time, to earn more money. In certain parts, it was easy to immigrate here because in Mexico, in order to give a permit to visit a family member in the US, you need to have proof that you work if you don't study. One needs to have a letter of recommendation that you are working, a passport, and obtain approval. I gave them everything they needed and they gave me a permit which is how I came here."
Entering a new country is a new feeling and if one doesn't know the native language, it can be difficult. Saenz said that it was also a rough experience because his uncle who lived in Chicago was waiting for him at the wrong airport. Without good communication, Saenz arrived at the Chicago Midway Airport, while his uncle was at the O'Hare International Airport. Even with the miscommunication, with the help of some good samaritans, he eventually got to his uncle. 
In Rockford, he ended up getting a job at a Japanese restaurant called, JMK Nippon, one of his first jobs in the US. Where he worked, they talked in four languages, but he only spoke Spanish. His uncle helped get him the job, and he helped him translate what some of the workers said. Later, he started working in Phoenix on a race track in the GrandStand, where people buy food. He did 5 jobs in total, alternating between them for 3 years.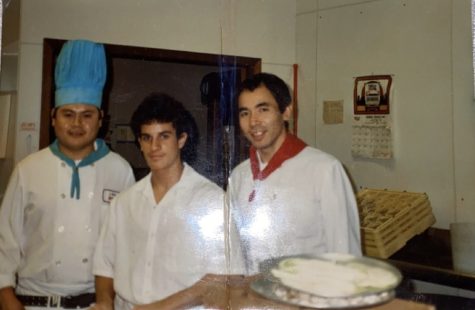 After that job, he moved to Colorado to help out his father in the fields. He started off like everyone else and became the foreman later on. He also worked in apple and pear fields. 
"I became one of the best workers for recollecting. I remember the most I've done packing in a field of onions was 48 sacks in one hour. To fill one sack of 100 pounds, you needed 3 to 4 baskets. The most I did in one day was 205 sacks."
 He wanted a stable job, so he went and helped out his brother-in-law. After 3 months, he got a job in construction in Telluride, thanks to the help of his father. He helped re-collect rocks and was put in charge by the boss. He later moved to a different company since there was a lot of envy and rivalry and he was isolated by the boss. 
His new boss saw his potential and left him in charge. That meant that dangers could happen. On July 10, 1998, he had a terrible accident on the job while putting up rocks. A rock was misplaced and ended up falling on his face. This caused half of his face to be numb, deafness in one ear, loss of smell, double vision, and a paralyzed vocal cord. With this situation, he wasn't able to work anymore. 
With no work in hand, Saenz does his own duties at home. He works outside at the back of his house, taking care of his chickens and creating small projects. He also helps take care of household needs such as maintaining cleanliness outside and taking care of his 4-month-old grandson. Saenz also likes going outdoors with his family to state parks and attractions.