Isabel Burruss sophomores opinion of the FFA trip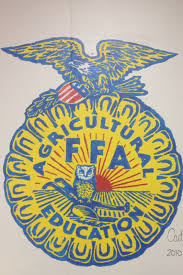 What is FFA?
FFA is an organization that educates young people about agriculture. Ag focuses on the challenges that the modern farmer faces and what we can do about those problems. Ag is a part of everybody's daily life and the FFA does their best to show people how ag impacts them.
Why are you a part of FFA?
I am a part of FFA because I show horses and I was interested in what would be different about being in FFA opposed to 4 H. When I learned that FFA teaches about a lot of different ag paths I was hooked. I ran for office and now i am on the chapter Executive committee.
Where was the FFA trip?
We went to Indianapolis, Indiana
Why did you decide to go on the FFA trip?
I decided to go on the FFA trip because it seemed like a good opportunity to travel and see more of the city lifestyle. I wanted to see the farms like Fair Oaks and learn more about how they operate.
What did you do on the FFA trip?
We toured Fair Oaks Farm, which is a Dairy and Pig farm. We went to sessions where there was 60,000 members present and listened to guest speakers. We went to Church hill Downs where they have the Kentucky Derby and watched live horse races.
What was your favorite thing that you did?
Definitely going to Chuchhill downs.
What was your least favorite part of the trip?
The traveling, we lost our bags on the way there and had to split up on the way back.
Anything else to say about the trip?
It was a lot of fun and I recommend going to anyone who can.
Leave a Comment