Mandating the Mask:
Will masks limit or effect athletes in the next sports season?
Off to a late start because of Corona, basketball and wrestling at DHS are going to look very different this year for players, coaches, and viewers. Basketball players are required to wear masks at all times and wrestlers must wear them unless they are wrestling.    The head boys basketball coach, Rob Ames, heads into this season with new players and new mandates. "I think that it is going to be significantly more difficult for players to breathe," said Ames, "but we practice every night for two hours with our masks on, so we will be accustomed to it as we possibly can."
   According to the CHSAA website, only "non-active participants" are required to wear masks yet players, like Diego Gutierrez, still have to wear them at all times. "[Wearing a mask] makes me want to suffocate myself," said Gutierrez.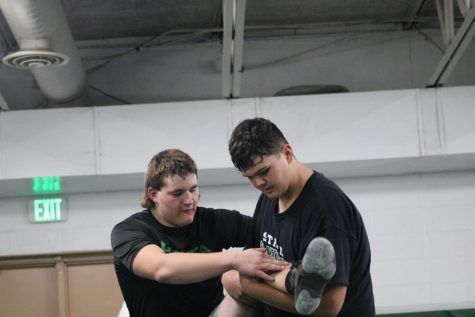 Each basketball player is only allowed two tickets to give out, so for most, that is not enough for their families to watch them play. Payten Hodgin, a JV basketball player, expresses her sadness for seniors that don't get to have a normal last season.
   "If I had one thing to say to the people who require us to wear masks while playing sports, I'd say: 'Let us play without a mask. It is not healthy for our bodies and not being able to breathe freely is absurd," said Hodgin. 
   Wrestling Coach Luis Meza said there weren't too many major changes for wrestling, but one big one he talked about was weigh-ins. Now only three wrestlers are weighed at a time, and if one of them is over their weight, the whole team has to weigh-in. If all three of the boys are at perfect weight, the rest of the team is good.
   Janitors also have to clean the wrestling room more now, and Treyton Sandoval explained that it smells worse than usual. "It always stinks because they have to mop the mats twice before we go in there," said Sandoval. 
   Ironically, the masks handed out by the district have a warning tag that it will not protect the wearer from any diseases. "WARNING: Not intended to prevent or eliminate exposure to any disease, infection, or communicable disease."
   But, through all the changes that have been made to this school year and season, coaches and players are still going to experience the wins and losses of high school sports. "I want what is best for high school students, and I believe that is all things a high school experience has offered in the past: a chance to work toward common goals, take risks, fail, win, laugh, cry, and develop character traits that will make the world a better place," said Ames.